Cutibase Moisturizing Cream
Cutibase Moisturizing Cream
Cutibase Ceramyd is perfume free , has the same pH as the skin and is hypoallergenic, an ideal formula for sensitive skin. This oil-free and non-comedogenic cream leaves a light, pleasant and beneficial sensation. In addition, Cutibase Ceramyd does not contain any preservative with irritating potential nor paraben.
Free no-hassle returns
The complex of ceramides, free fatty acids and cholesterol in our formula restores the lipid balance, which is essential to rebuild the skin barrier. The squalane in the formula restores the skin's natural oils, soothing irritation and dryness. Mineral oil and cyclomethicone, two protective agents, provide maximum protection for the skin.
Ingredients : Water, Liquid kerosene, Cetearyl alcohol, Ceteareth-20, Phospholipids, Sphingolipids, Glycerin, Stearic acid, Cyclomethicone, Squalane, Phenoxyethanol, EDTA, Cholesterol.
Apply on the skin as needed.
Share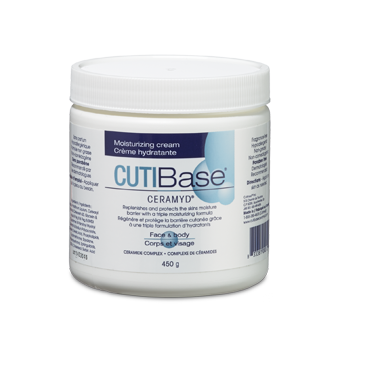 Medications may cause serious adverse reactions or interactions with other medications. Please read the label, warnings and inserts provided by the manufacturer and consult your pharmacist when purchasing such medications. Keep medications out of reach of children.
Have questions or need support?
Our pharmacy team is there to help you at every step of the way - Even if you don't have an account with us yet!
*Prescription delivery is always free in Ontario and British Columbia. Non-prescription items delivered free with prescription or with purchase over $40 before tax.