Flinestones Complete Kids Multivitamin & Mineral Chewables
Flinestones Complete Kids Multivitamin & Mineral Chewables
Flintstones™ Complete chewable multivitamin and mineral supplements contain Vitamin D and calcium to help in the development and maintenance of bones and teeth.
Free no-hassle returns
Helps in the development and maintenance of bones and teeth
Helps in energy metabolism with Vitamin B12
Supports immune health with Vitamin C and Vitamin D
Supports eye health with Vitamin A
Free of high-fructose corn syrup & aspartame
Each tablet contains Vitamins: Vitamin A (as acetate) 480 mcg (1600 I.U.), thiamine (Vitamin B1) (thiamine mononitrate) 1.5 mg, riboflavin (Vitamin B2) (riboflavin) 1.5 mg, Vitamin B6 (pyridoxine hydrochloride) 1 mg, Vitamin B12 (cyanocobalamin) 3 mcg, biotin (biotin) 30 mcg, Vitamin C (sodium ascorbate) 50 mg, Vitamin D (cholecalciferol) 10 mcg (400 I.U.), Vitamin E (dl,alpha tocopheryl acetate) 4.5 mg (10 I.U.), folate (folic acid) 0.1 mg, niacinamide (niacinamide) 8 mg, pantothenic acid (calcium d,pantothenate) 10 mg. Each tablet contains minerals: Calcium (calcium carbonate) 160 mg, Iron (Ferrous fumarate) 4 mg.
For children three years and older. Chew one tablet daily with food. Take a few hours before or after taking other medications. Keep safely out of reach of children. Do not use if seal under cap is broken or missing. To be sure this product is suitable for you, always read and follow the label.
Share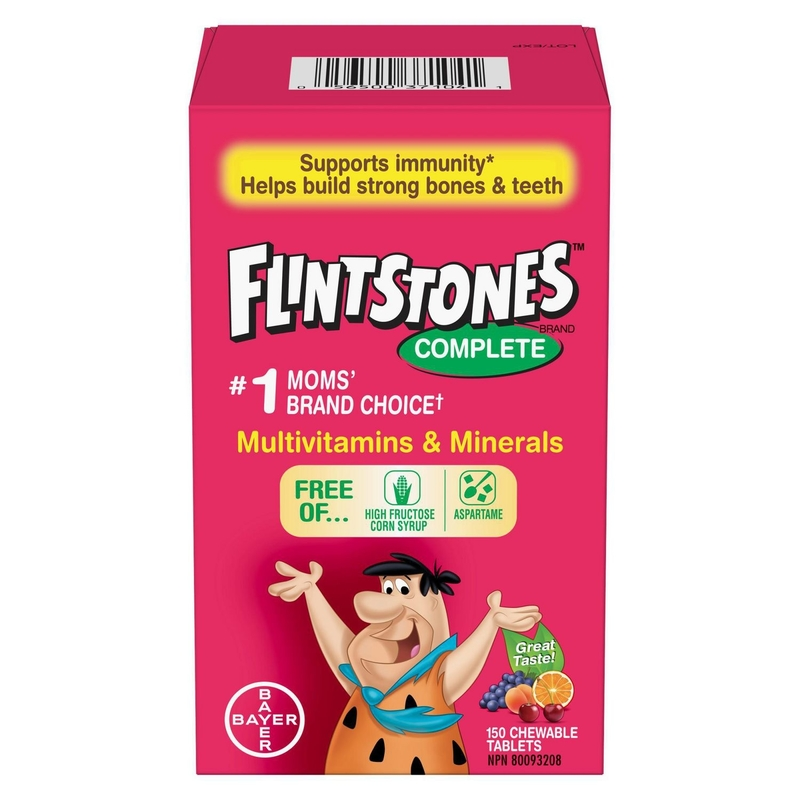 Medications may cause serious adverse reactions or interactions with other medications. Please read the label, warnings and inserts provided by the manufacturer and consult your pharmacist when purchasing such medications. Keep medications out of reach of children.
Have questions or need support?
Our pharmacy team is there to help you at every step of the way - Even if you don't have an account with us yet!
*Prescription delivery is always free in Ontario and British Columbia. Non-prescription items delivered free with prescription or with purchase over $40 before tax.