RestoraLAX Powder Laxative
RestoraLAX Powder Laxative
RestoraLAX® provides effective relief from occasional constipation by working with water to hydrate and soften stools, restoring your body's natural rhythm without causing bloating, cramps, gas or sudden urgency.
Free no-hassle returns
No taste
Free of preservatives, sugar, and gluten
Gentle and effective relief
Does not cause certain side effects like gas, bloating, cramping
Convenient 17 g dose measuring cap
Polyethylene Glycol 3350 (PEG 3350)
Directions: The bottle top acts as a measuring cap. Fill the measuring cap to the top of the white section which is marked to indicate the correct dose (17 g). Adults: (> 18 years) take one dose (17 g) daily. Stir and dissolve in 8 ounces (250 mL) of any non-alcoholic beverage (cold, hot or room temperature) and then drink. Ensure that the powder is fully dissolved before drinking. Do not drink if there are any clumps. RestoraLAX® dissolves easily and completely in everyday beverages like water, juice, coffee, or tea. Do not take more than directed, unless advised by your doctor. The safety and efficacy of RestoraLAX® for use in children under 18 years of age have not been established. Children 18 years of age or under: ask a doctor. Do not use more than 7 days, unless recommended by a doctor.
Share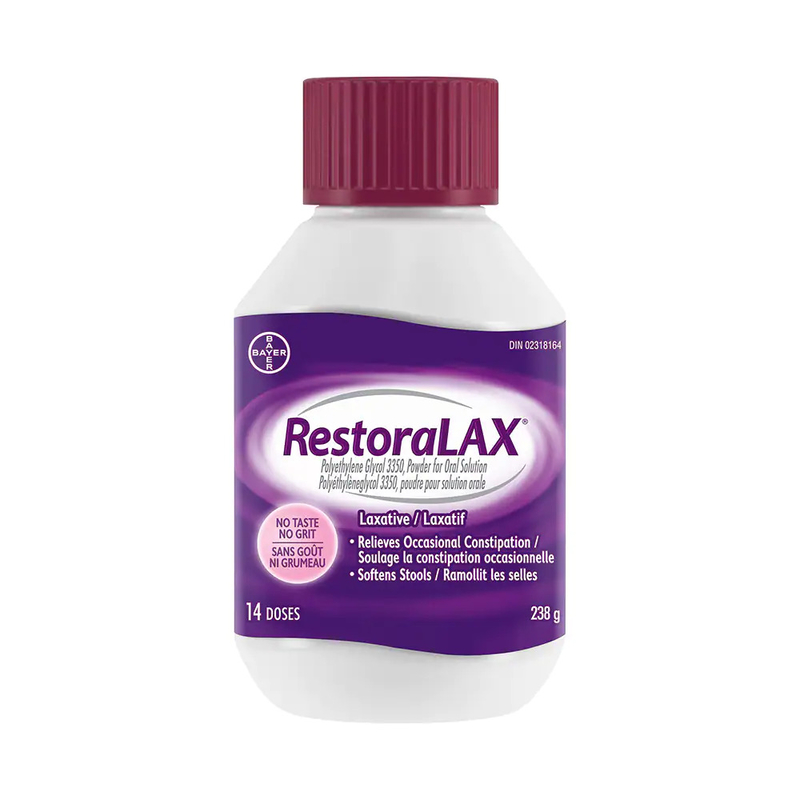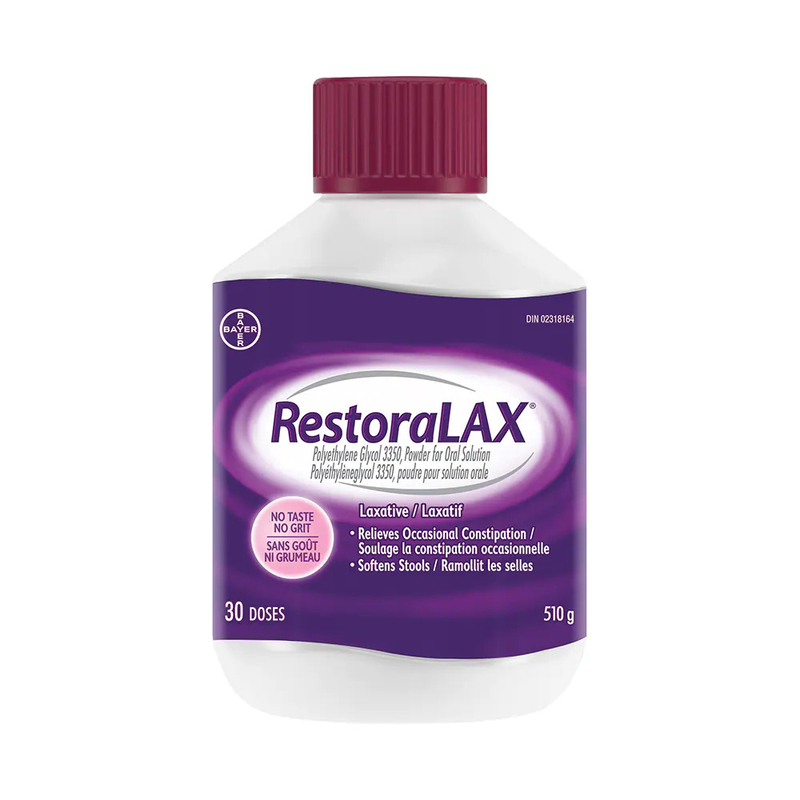 Medications may cause serious adverse reactions or interactions with other medications. Please read the label, warnings and inserts provided by the manufacturer and consult your pharmacist when purchasing such medications. Keep medications out of reach of children.
Have questions or need support?
Our pharmacy team is there to help you at every step of the way - Even if you don't have an account with us yet!
*Prescription delivery is always free in Ontario and British Columbia. Non-prescription items delivered free with prescription or with purchase over $40 before tax.