Vicks VapoInhaler
Vicks® VapoInhaler® provides temporary relief of nasal congestion due to cold symptoms. Plus, it's easy to carry in a pocket or purse, and can be used almost anywhere. The Vapor Inhaler shrinks swollen membranes and provides fast relief from stuffy nose.  Inhale the refreshing scent of Vicks Use as often as preferred Take the scent of Vicks with you for on the go use Medicinal Ingredients: Camphor, Menthol Non-Medicinal Ingredients: Abies sibirica, Methyl Salicylate
Vicks VapoInhaler
Vicks VapoInhaler provides temporary relief of nasal congestion due to cold symptoms. Plus, it's easy to carry in a pocket or purse
Free no-hassle returns
Shrinks swollen membranes and provides fast relief from stuffy nose
Inhale the refreshing scent of Vicks
Use as often as preferred
Medicinal Ingredients: Camphor, Menthol Non-Medicinal Ingredients: Abies sibirica, Methyl Salicylate
Directions: Adults and Children 12 and above: Inhale refreshing vapors through each nostril. Use as often as needed. Children under 12: Do not use.
Vicks® VapoInhaler® provides temporary relief of nasal congestion due to cold symptoms. Plus, it's easy to carry in a pocket or purse, and can be used almost anywhere. The Vapor Inhaler shrinks swollen membranes and provides fast relief from stuffy nose. 
Inhale the refreshing scent of Vicks

Use as often as preferred

Take the scent of Vicks with you for on the go use
Medicinal Ingredients:
Camphor, Menthol
Non-Medicinal Ingredients:
Abies sibirica, Methyl Salicylate
Share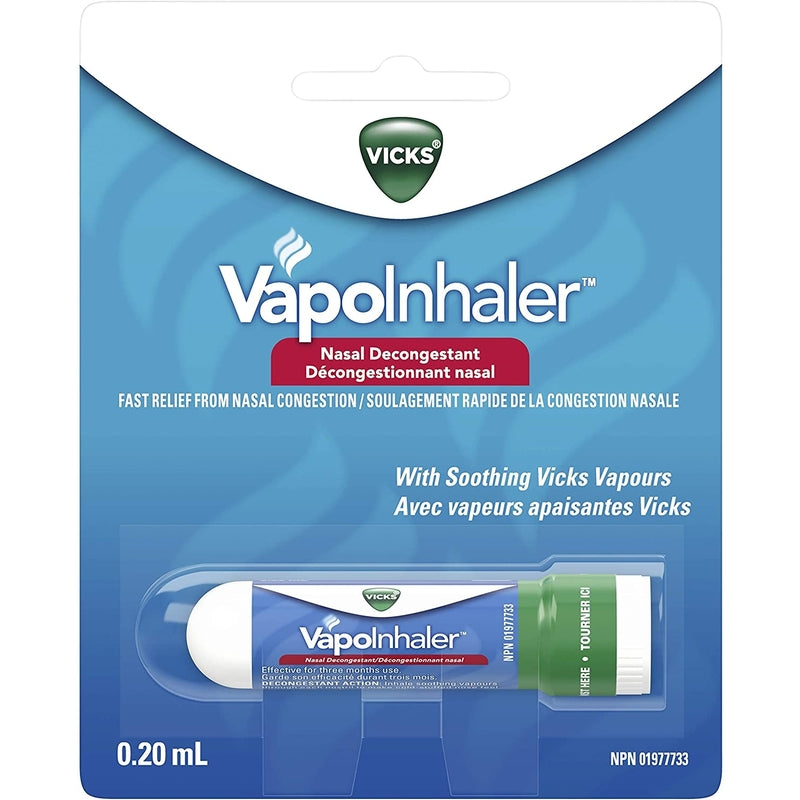 Medications may cause serious adverse reactions or interactions with other medications. Please read the label, warnings and inserts provided by the manufacturer and consult your pharmacist when purchasing such medications. Keep medications out of reach of children.
Have questions or need support?
Our pharmacy team is there to help you at every step of the way - Even if you don't have an account with us yet!
*Prescription delivery is always free in Ontario and British Columbia. Non-prescription items delivered free with prescription or with purchase over $40 before tax.